Wood Carving Disc
$ 29.99
$ 199.99
SAVE

$ 170
Say goodbye to your unpredictable Tools!
100% Positive Feedback From Purchased Customer:
This is a high-performance wood carving tool with a wide range of applications, stable performance, easy to use and install. It is a perfect angle grinder accessory.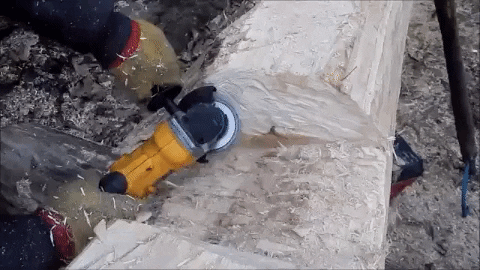 This powerful 3 or 6 Teeth Wood Carving Disc is designed to mount on a standard electric angle grinder and provide rapid material removal to save your time and effort, meet your various needs.
Features:-
Safety & Control: - Fast wood removal with the added benefit of control & safety. Say goodbye to your unpredictable chainsaw.
Performance:-

 

Durable carbide teeth ensure long blade life even in hardwoods. They are easy to sharpen, extending the life of the blade even further.

Easy to operate:

 Easy to use and easy to operate, allowing removal of small or large amounts of material.
Scope of application: For all types of soft and hard timbers. It can be used for woodworking, wood carving, root carving, polishing tea trays, coffee tables, etc.
Made of fine quality alloy, high hardness, wear resistance, easy to install and use.
Six-tooth gives a smooth and controllable grinding and polishing action to maximize the grinding performance.

Easy to use:- Engineered to provide excellent balance and safety, making it easy to pick up and start using straight away.
SmoothBlade Technology:- The unique wide cutting edges leave a smooth finish that requires minimal sanding. Unlike burr discs, the blades curved design and internal placements of wide cutting edges provide a unique sculpting action. Resulting in the smoothest finish possible. Taking the work out of woodwork.

Versatility:
Can be used with guides and templates for accuracy
Ideal for rapid sculpting, planting and trimming
When used flat it creates level surfaces
When used on an angle it is ideal for convex and concave free form wood shaping
Specifications:
Material: Alloy

Color: Blue

Type: Arc teeth, Flat teeth (optional)

Arc teeth: Tea tray digging

Flat teeth: Grinding plane

Teeth Quantity: Three/six

Inner diameter: 16mm / 0.6in

Outer diameter: 90mm / 3.5in

Notch depth: 7mm / 0.3in

Item weight: 

Arc teeth: 294g / 10.4ounce

Flat teeth: 341g / 12.0ounce

Package size: 147 * 147 * 17mm / 5.8 * 5.8 * 0.7in

Package weight:

Arc teeth: 332g / 11.7ounce

Flat teeth: 378g / 13.3ounce
Package list: