Portable Fishing Spooler
$ 59.99
$ 119.99
SAVE

$ 60
Enjoy more time for fishing!
This innovative fishing line spooler helps you re-spool your casting reels and spinning reels super easily and fast. It eliminates the upsetting line twist and wind knots on your spinning reels.
Allows fast and easy spooling, Forget about pencils, Good with large and small spools, Compact, lightweight & portable.
Easy taking and convenient. 
Easily adjust the line's tightness. Spool can circumrotate, avoiding line twist. The easiest way to spool fishing line by yourself. Suitable for both spinning reels and baitcasting reels. High strength graphite frame, can be easily disassembled. Can accept up to 65mm of the thickness of spool (one spool and more spools are available)
.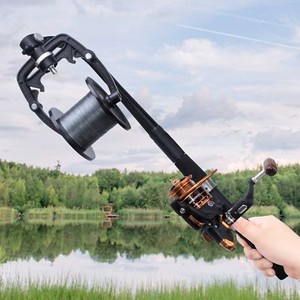 You'll be blown away by how easy it is to load your spool with this. Once you try it there's no going back. A must-have for any fisherman.
A must-have for fishermen. Clever tool for loading your reel with braid or mono, or doing simple things like tying a #6 fish hook which from experience it tangles, line slips loose, etc. No more using a pencil or the wife to help you hold the reel.
Durable
lighter weight, and durable. Easy to install and you can carry it everywhere (whether you are in kayaks, boats, etc. ) to spool fishing line by yourself.
Function
If you are so tired of spooling the line by hand which from experience it tangles, line slips loose, etc. The reels can rotate and revolve, which can effectively eliminate the twist and twist of the fishing line.
Convenient
The convenient winding of the thread on the reel to the fishing line wheel, and no other auxiliary person or object required.
Applicable
 The total thickness of the largest cable clamp disc is 65mm (single disc or multi-disc). The cable clamp disc is suitable for common small holes, and the special large hole cable clamp disc is not suitable for use.
The time-saver, a must-have for fisherman!